I wrote an essay a few years ago called "The BLS – Boring Legal Sh….er… Stuff – For Cyclists," in which I described how your homeowner's insurance, auto coverage, health insurance and more intersect when you are whacked by a car.  I also suggested that cyclists need to make sure their Estate Planning was in order by updating their will and having Powers of Attorney in place for financial and health care matters.  Fast forward a few years and this piece was mentioned on a hotsy-totsy financial planning website. A writer from The Wall Street Journal saw it -and suddenly I'm on the phone with Arden Dale, a regular WSJ contributor!  On March 13, 2012 Ms. Dale's Wall Street Journal story about Estate Planning for Sports Enthusiasts hits the web, and there, in a 43 word paragraph, Ms. Dale describes our 30 minute conversation for all WSJ readers to take in.
Ms. Dale wrote: "… Pushing the envelope also makes it smart to take a close look at insurance. Most cyclists don't understand that auto, homeowners' and umbrella policies may help if a car hits them, says Steven M. Magas, a Cincinnati lawyer who works with avid cyclists…."
The BLS article has been a popular one.  I wrote it for local publication but it was picked up by Adventure Cycling for inclusion in their national Cyclist's Yellow Pages.  You can still read it here.
In short, the article recommends that cyclists need to get their act together… Cyclists should have insurance to cover them if something should happen while they are on the road.  Cyclists should NOT expect that "the other guy" is going to have insurance, or enough insurance to cover their claim.  Cyclists should maintain adequate auto coverage, with sufficient "UM/UIM" limits [Uninsured/Underinsured Motorists Coverage] to protect themselves in case the other guys does NOT have adequate coverage.
MED PAY ISSUES
Also, check out your auto policy's "Med Pay" limits.  "Med Pay" is short of "Medical Payments"- called "PIP"  coverage in no-fault states – and is another important coverage.  Med Pay acts like a mini health insurance policy if you are whacked by a car.  However, you should ALWAYS use your health insurance first.  Today, when you get to the E/R after a crash, the Billing Department will ask immediately for your AUTO policy info.  Seems like an odd request  – why do they need that info?
Well, your health insurer has negotiated a deal with the E/R.  The $1500.00 E/R bill may only result in a $900 payment from your health insurer.  If the E/R Billing Department can get that bill to you AUTO carrier the auto carrier will pay 100% of it, or $1500.00, without any markdown or negotiated lower rate.  E/R's, doctors and those who regularly find themselves dealing with crash victims are slowly learning to get the bill paid by the Auto carrier, not the health insurance carrier.
YOU, however, should not let this happen. You should make sure your bills are paid by your health insurer.  You should remain in control of that "Med Pay" money – you may need it to pay "co-pays" or the 20% you owe under an "80/20" health insurance policy.  The E/R's and other care providers will fight you on this – they want $1500, not $900 – but you have the right to have your bills paid the was YOU want them, and to have all the bills submitted to your health insurer.
DON'T BUY NATIONWIDE AUTO INSURANCE
Another point on auto insurance and "Med Pay" – BEWARE OF NATIONWIDE INSURANCE.  I usually don't mention specific companies by name here – but Nationwide bears special mention because of its position on "Med Pay" claims that is VERY detrimental to all cyclists.
In every other "bike case"  I've ever handled with ANY other insurer, the Med Pay clause covers bicycle riders.  Nationwide, however, says "NO" to cyclists.  Nationwide claims that its Med Pay coverage is limited to "pedestrians" and that cyclists are not pedestrians.  Therefore, Nationwide refuses to pay the medical bills of bicycle riders who are whacked by cars.    No word on whether Nationwide would cover, skateboarders, rollerbladers, horseback riders, pogo stick users, kids on tricycles, babies in baby carriages or other "non-pedestrians."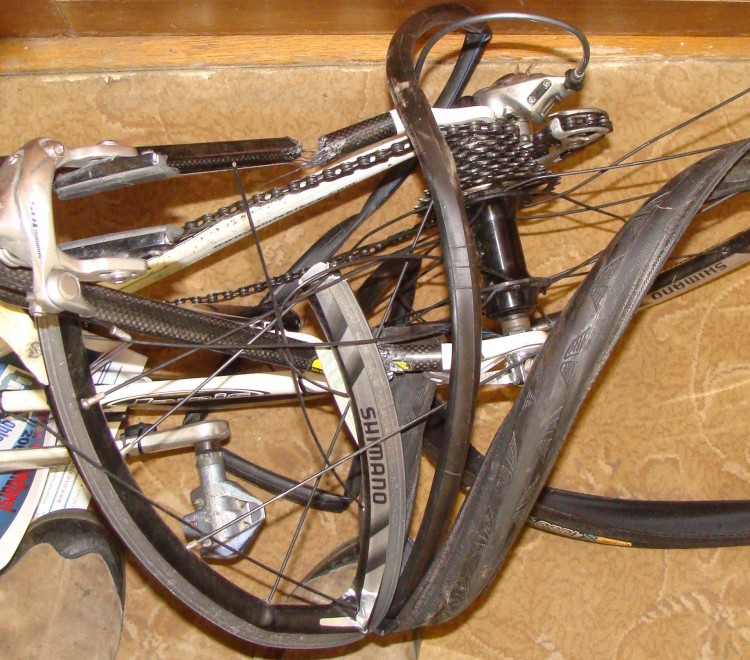 I am currently litigating this with Nationwide, so I may have more to report down the road.  There is a court of appeals decision in Ohio which indicates that, for insurance coverage purposes, the word "pedestrian" means more than simply people walking around.  For purposes of Uninsured/Underinsured Motorist coverage, the words "pedestrian" includes a person on a bicycle, according to a 2004 case.  Nationwide, apparently doesn't feel this case is controlling…
WHAT'S THE DEAL WITH HOMEOWNER'S COVERAGE?
What happens if YOU goof – you run a red light and hit a car. You clobber a pedestrian who has the right of way in a crosswalk. Now, someone wants to bring a claim against YOU for your careless riding. Who pays THAT claim?
Many cyclists are unaware that their HOMEOWNER's policy will cover them in this situation.  Just as you have coverage in case your neighbor slips and falls on your property, your H/O policy provides coverage for all types of "negligence" – including negligently riding a bicycle and causing property damage or injury.  Again, check your policy limits to make sure you have enough coverage!
ARE YOU CARRYING AN UMBRELLA WHEN YOU RIDE?
An "umbrella" is a special type of policy which covers over the top of your other insurance.  Umbrellas, as you might have guessed, are only used on "rainy days" – OK, poor pun, but somewhat applicable.  Your auto policy covers for virtually all claims that arise in your lifetime, but what if you are in a situation where you have a very big claim – and all the usual coverages are used up?  An umbrella kicks in only during that unique situation – a once in a lifetime situation.
Umbrellas come in BIG coverages- usually a$1,000,000 or more. However, because they only come into play in very rare circumstances, the cost of such coverage is fairly low compared to other coverages.  Many professionals use an umbrella to protect them in case of malpractice or claims of professional negligence, however, umbrellas can apply to your auto coverage too.  If you do something stupid and cause someone else to have a million dollar claim against you, the umbrella kicks in.  If someone else does something to cause YOU to have a million dollar claim… you also have source of funds to pay that claim.
Be careful here – and talk very specifically with your insurance professional about your needs and your lifestyle.  I had a case in which my client, a CPA, and her husband, also a CPA, had purchased an umbrella.  She had a very bad crash caused by someone with very little insurance. They had a large UM/UIM policy, which we were able to get, and they also had an "umbrella." However, for whatever reason, their insurance agent talked them into signing a document that WAIVED umbrella coverage for AUTO claims!
That's right… they did everything I recommended… bought a large UM/UIM policy, good Med Pay, and purchased an Umbrella policy — except that they told the Umbrella insurance company that they didn't want the umbrella to apply to auto crashes… they didn't even realize what they were giving up when they signed this "waiver" – soooo…..they were stuck with a large claim that was not fully paid.
BOTTOM LINE[S]
Bottom line 1 – THANK YOU WSJ for spelling my name right!
Bottom Line 2 – Cyclists should NOT be buying Nationwide Insurance.
Bottom Line 3 – TALK to your insurance agent about your H/O, Auto & Umbrella needs!
Printed from: https://ohiobikelawyer.com/bike-law-101/2012/03/magas-makes-the-wall-street-journal/ .
© 2023.
You can leave a response, or trackback from your own site.
---
---