I'm working on a new "card" –   a 4×5 card that cyclists can carry with them.  Sort of a colorful, calming piece of real "bike art" on one side and a summary of Ohio's bike laws on the other… I picture you looking at the pretty picture to calm you down as you eloquently educate the police officer on the fact that you CAN ride two abreast on any road, at any time, in Ohio…
The artist, Talia Lampert, is a New York artist who does "Bike Paintings."  Gorgeous, colorful paintings of … well… real bikes.  Not high-end $20,000 bikes made of the latest mode of unobtainium, but real people's bikes.  You can see her work here.
I purchased the right to use one of Talia's paintings for one of my cards.  I've been sitting on it for over a year… This week my artist-in-residence, my step-son's wife, designer extraordinaire  Teresa Johns, put the thing together in grand fashion.  You can see the results below.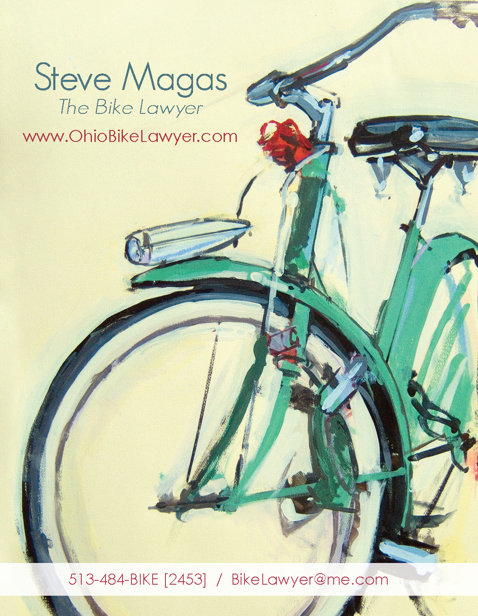 The back of the card will offer, in a much more lawyerly font, a summary of Ohio's Bike Laws, with reference to the Ohio Revised Code sections.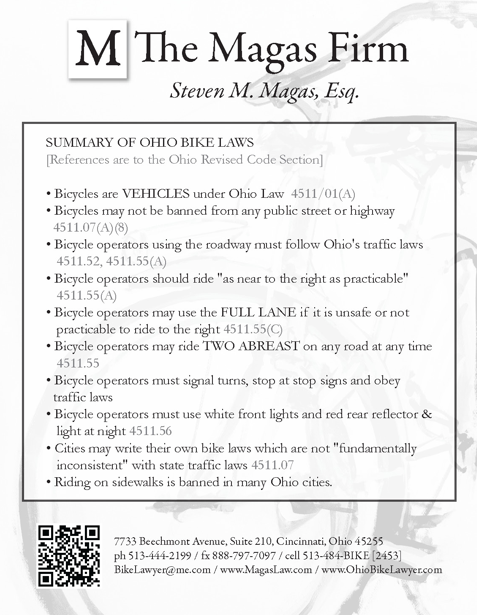 As you can tell, we put one of those cool, funky, hip, groovy QR thingamagoochies in the  lower left corner.  If you aim your iPhone or SuperDroid at it, you are instantly transported to H.G. Wells' Bicycle Utopia …er.. well… maybe not… it actually completes the Circle of Life and takes you right back here to the website through the magic of iFairies, pixel dust and the InterWeb…
Let me know what you, the reading public, thinks of this… I understand "spoke cards" are very hip right now… maybe that's next on the list…
THANKS!
Steve Magas
Printed from: https://ohiobikelawyer.com/bike-law-101/2011/04/new-summary-of-ohio-bike-laws-on-a-groovy-new-card/ .
© 2023.
You can leave a response, or trackback from your own site.
13 Comments »
---
---