The Columbus Dispatch asked me to write 750 words for their op-ed page which ran online on April 14, 2011.  Getting me to stick to 750 was tough… OK, impossible… but they ran my 800+ words anyway!
Here's an expanded, and annotated, version of what I sent in… my views on why Cyclist/Motorist Tensions that have escalated in Columbus during and following the Ed Miller trial – the man accused of being drunk when he ran into, and killed, a well-known Columbus cyclist, ride leader and advocate, Steve Barbour.  The trial recently ended in a mistrial as jurors could not reach a unanimous verdict.
Steve Magas, The Bike Lawyer
UNDERSTANDING CYCLIST/MOTORIST TENSIONS
By Steven M. Magas, The Bike Lawyer
The death of cyclist Steve Barbour in 2009, the recent trial of Ed Miller, and the 2010 deaths of Columbus cyclists Jeff Stevenson & Trent Music, have created a palpable tension between motorists and cyclists in central Ohio.  A war of words has erupted in the Columbus Dispatch.
Cyclists are rightfully angry that one of their most cautious and beloved brethren was killed and then blamed for causing his own death. Motorists argue that cyclists drive carelessly, should "pay for" using the roads though licenses and taxes and should not be allowed on certain roads in the first place.
Let's step back –  take stock – and address some of these concerns.
Why Are Cyclists Allowed On The Roads?
As Walt Whitman proclaimed "O Public Road!"
The roads in Ohio, and throughout the U.S., are PUBLIC ways open for the public to exercise a constitutional right to travel.  Bicycles were on the roads before cars existed.  Bicycle operators are included as legitimate, legal road users in the traffic laws and rules of the road in all 50 states.  Under Ohio law, bicycles may use EVERY non-freeway road and may not be banned from the roadway.
Motorists argue that bicycles go "slow" – as do big trucks, farm equipment and Amish buggies.  However, on all but higher speed country roads, cyclists can actually travel at average speeds approaching motor vehicle speeds.  Today's impatient motorists must understand that "traffic" is a brightly colored cloth which includes the movement of vehicles of all types and speeds of vehicles.
Do Cyclists, or Motorists,  "Pay For" The Roads?
Many, if not most, cyclists are licensed motor vehicle operator owners and pay the same "fees" as everyone else.  However, public roads, like public buildings, public sidewalks and pubic schools, are open to everyone regardless of income.
Roads are not a private club with a steep initiation fee and monthly dues.  Those who drive Big Trucks or gas hogs,  paying higher "fees" and "taxes" and buying more gas, do NOT get bigger or more rights than those operating smaller vehicles.  People driving VW Bugs or Mini Coopers or bicycles are not required to surrender their legal right of way to those driving a Ford Subdivision [or whatever the new humongo vehicle is called these days]!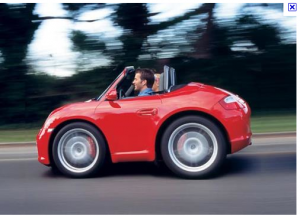 Paying for the MAINTENANCE of roads is even more important. A single 40-ton semi, which weighs 40 times more than a one-ton car, does 9,600 times more damage to the roads than the car.   A bike rider does not compare – the bike+rider unit does virtually NO damage with  skinny tires, light frame and rider.  Yet, big trucks are not paying their "fair share" to maintain roads – at least according to a recent Dispatch editorial.  Under this analysis, bicycle operators should get a REFUND for not damaging roads…
Why Aren't Cyclists Licensed?
We demand that people be licensed to be allowed to do dangerous things – things that put the lives of others at risk. A cyclist is a risk to her/himself but not a realistic risk to others.  A bicycle operator who goes "rogue" is not going to drive through a crowd of people and kill them.
Licensed motorists kill at the rate of 30,000+ per year in this country.  NHTSA was recently touting the latest figures for 2010, which dropped to "the lowest rate in history." 33,808 people were killed in 2009 and "only" 32,788 were killed in 2010.  As far as I have been able to determine unlicensed cyclists killed ZERO people last year.
Drivers licenses were not issued in the U.S. until
Are Cyclists Driving Recklessly?
The short answer – no.
I am working on a report of EVERY cycling fatality in Ohio in 2010.  Part of my research included getting reports from the Ohio Department of Public Safety which list every CRASH involving a bicycle from 2005-2010.
There were only TEN cycling deaths out of 1,809 crashes in Ohio in 2010.  By comparison, 500,000 Ohio drivers were involved in over 300,000 crashes in 2009 leading to 935 deaths – that's an average of 822 car crashes, and more than 2 motorist deaths, every day!
242 bike crashes occurred in Franklin County in 2010. Of those, 110 police reports listed the cyclist as the "unit in error."   This roughly 50/50 breakdown on "fault" is consistent with national figures.
One Key Point needs to be inserted among the numbers here – one I firmly believe –> Cycling today in Ohio is SAFE.
Don't let statistics prevent you from dusting off that bike and getting out there to enjoy Ohio's roads and trails.  According to bike guru Ken Kifer, cycling is six times safer than LIVING! However, being aware of how accidents happen can help you "see" ahead and plan ahead. Knowledge is power and, here, it is the power to ride safely and effectively!  [Ironically, Ken Kifer was killed while riding – by a drunk driver who is now serving 20 years in prison for murder as the result killing him!]
"SEE" is actually an acronmym borrowed from the motorcycle literature.  It means "Scan/Search – Evaluate – Execute" – three steps new motorcyclists are taught to use constantly in Motorcycle Safety Foundation training classes.  These steps should be used by cyclists on the roadway as well.  "Search" ahead – 10 to 12 seconds ahead – and determine what potential risks are upcoming.  Complex intersections, pedestrians, narrowing lanes, right turn lanes, freeway on-ramps, crosswalks, dog walkers, debris or potholes, parked cars…  "Evaluate" those risks and develop a plan to deal with them as you approach.  "Execute" that plan far enough ahead to keep the risk from blossoming into a full blown conundrum!
Rising Cyclist Tensions
I took a closer look at one Columbus street – High Street – where 25 bike crashes occurred in 2010.  High Street is a long, flat, urban thoroughfare that stretches from one end of Columbus to the other.  Downtown High Street is chock full of great shops, food establishments and cyclists.  Of the 25 bike crashes in 2010, the cyclist was faulted in only FIVE while sixteen listed the motorist as being at fault.
"Right of way" violations by motorists on High Street were the overwhelming proximate cause of these crashes – i.e., the cyclist possessed the "right of way" under the law and that right of way was not respected by the motor vehicle operator either through an improper turn, passing maneuver, "ACDA" violation or other invasion of the cyclist's right of way.
In many of these High Street crashes the motorist simply failed to "see" the cyclist.  As I have written many times, this is not an excuse but an admission of liability.  Judging by the actions of the downtown traffic cops in Columbus, motorists are being ticketed for these right of way violations.
Hit and run drivers continue to plague cyclists – as well as pedestrians, motorcyclists and other vehicle operators.  Hit/run drivers kill four people in the U.S. every day.
In Columbus, Jeff Stevenson and Trent Music were both killed by hit and run drivers.  Maybe you saw a white "ghost bike" marking the scene of Jeff's death on Sawmill Road last summer?  Hit & run deaths take a huge emotional toll on the cycling community – similar to how an unsolved murder rattles the neighborhood where it occurs.
Steve Donaldson is an Arizona cyclist who started "CARD" – Cyclists Against Reckless Driving – with a mission of promoting and encouraging safe cycling, reducing crashes, and educating and informing the masses.  Steve started CARD's Facebook page a year or so ago for the purpose of publicizing bicycle crash cases he finds during daily web searches.   CARD's page has amassed more than 10,000 followers who follow the tragedies around the country. While at times morbid, this page serves as a very in-your-face reminder to cyclists that stuff happens on the roads every day  and hit/run incidents seem to be an epidemic these days.
How do we move forward?
The key is education – understanding the law as well as where the emotion on each "side" of this issue comes from.
Motorists need to understand and accept that:
–       Ohio cyclists may ride on virtually EVERY non-freeway chunk of asphalt in Ohio – even the ones viewed by some as "dangerous."
–       A cyclist riding lawfully on the roadway has EXACTLY THE SAME "right of way" as any other driver. Bigger vehicles don't get bigger rights!
–       "Failure to Yield" to a cyclist's right of way is one of the primary causes of car/bike crashes in Columbus, in Franklin County, in Ohio and in the U.S.
–       Ohio law allows cyclists to ride two abreast.  One rider may use the FULL LANE where needed for safe riding.
–       Passing at safe distance is critical.
Cyclists need to understand and accept that:
–       With the right to use the roads comes responsibility.  Cyclists must follow the rules of the road just as any vehicle operator must.
–       Traffic rules must be followed.  Stopping at red lights and stop signs is mandatory and an effective way to demonstrate that you ARE "traffic" and not simply playing in traffic.
–       Riding visibly, and predictably, is better for riders AND motorists.
Millions of Ohio bicycle riders will safely ride tens of millions of miles this year.  With gas prices over $4.00/gallon and rising, we will see more utilitarian riders to go along with the commuters, recreational riders, mom & dads, fitness buffs, racers and kids on the roads.
To quote Sgt. Phil Esterhaus: "Let's Be Careful Out There."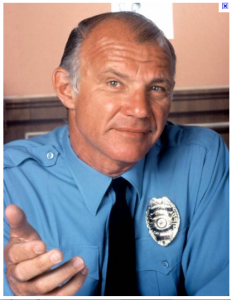 Printed from: https://ohiobikelawyer.com/bike-law-101/2011/04/1048/ .
© 2023.
You can leave a response, or trackback from your own site.
28 Comments »
Trackbacks/Pingbacks
---
---