What is justice?
Today I presented some testimony to the Court in the sentencing of Melinda Woodall. Frank Henson, from QCB, and Derek Drifmeyer from CCC were also present in the courtroom to show support for the Prater family. I was there as a representative of the family as I had represented the family in civil claims and the family had returned to California. I was also there as a member of the "cycling community" and as a representative of the Ohio Bicycle Federation.
Melinda Woodall drove while high, drove off the road and smashed into cyclist Michael Prater, who was riding in the berm – Woodall then drove off, leaving Michael on the side of the road. He died the next day but was never conscious.
Woodall was caught fairly quickly, told  stories to deputies about other people being in the car with her [which police discredited after a thorough investigation] and was found with syringes and drugs hidden on her person. A drug test revealed some 10 different drugs in her system according to Judge Foley today.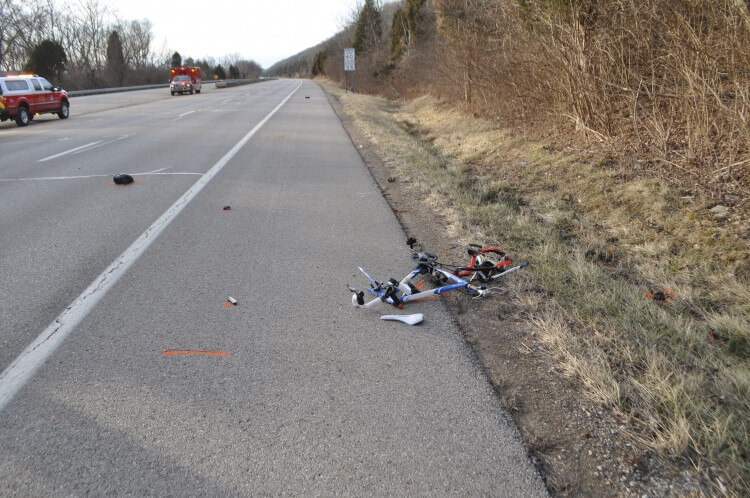 The defense asked for a "light" sentence – 3 or 4 years – arguing that that was in line with what courts had done in other cases they had researched.
The prosecutors were very aggressive, arguing that many of those cited cases did not involve first degree felonies. I presented a bit of the family's point of view, and urged a significant sentence.
I also pointed out that Ms. Woodall had, by our count, some 50 prior "cases" in various courts relating to driving infractions, license suspension, driving on suspension, drug abuse, drug paraphrenalia, and the like. I suggested that her actions on Jan 31 were not an "oops I goofed" sort of behavior but were the catastrophic result of an ongoing course of [unpunished] conduct for many years.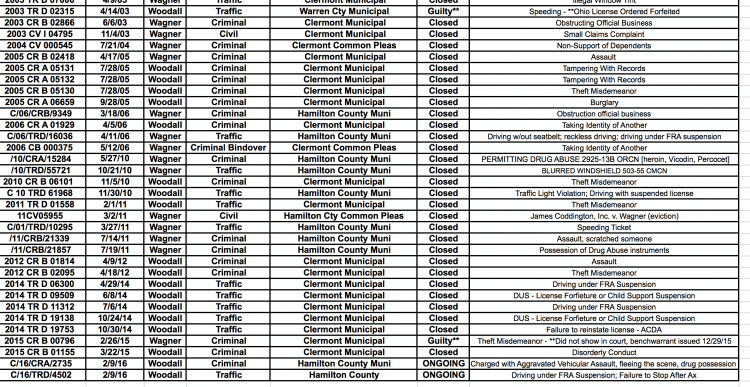 I also pointed the court to three cases not on the defendant's "list" in which the defendants ran over and killed cyclists in broad daylight, fled the scene and had drug or alcohol issues. Sentences in THOSE cases ranged from 9.5 years to 16 years! Regular readers of this page will recognize the three cases I discussed: Kelly Cox, who killed Judge Chip Henry, blew a 0.28% BAC and got 9.5 years – Todd Shaw, who drank at a bar, bought a six pack To Go, and smashed into Fred Carey and got 9.5 years – Anthony Gerike, serving a 16 year sentence for killing Amy Goehring and Terry Walker while driving with [with no license] when he had drugs and alcohol in his system  on a sunny Sunday morning 10 years ago [7/16/2006].
Judge Foley gave Melinda Woodall a total of 13 years in prison. 
She got 8 years on the aggravated vehicular homicide charge, 2 years on laving the scene and 1 year each on 3 different drug charges stemming from illegal drugs she had in her possession. She had a total of some 10 different drugs in her system when she was caught. Judge Foley ordered that those terms be served CONSECUTIVELY- not concurrently.
This means 8 + 2 + 1+1+1 = 13 years in prison. A concurrent sentence would have meant an 8 year sentence.
Is this "justice?"
I don't know – it is certainly a very stiff sentence by local standards, and its sets a tone that this court is not going to give a break to drug offenders who hurt or kill others. This sentence does not magically bring Michael Prater back to life but may give some solace to friends and family that Michael's killer will be locked up and off the streets and will not be able to hurt anyone else for a long time. Perhaps the sentence will be heard by those with addiction problems and may discourage drunks or addicts to avoid driving cars while high… 13 years seems like a very light sentence compared to the lifetime of grief imposed by Woodall on Michael's wife, children, parents, siblings and friends… 13 years behind bars is a long time, but Woodall will be able to be visited by her mother and children and will be able to return to society in her 40's with a lifetime ahead of her… 13 years from now Michael's daughter will be approaching her 14th birthday and his son will be almost 17… and Michael Prater will still be dead… Justice? I dunno, but it's probably the best we, as a society, can do in a case like this…
To me, this is a very fair sentence under Ohio law for someone who made several very conscious decisions which led to Michael's absolutely senseless death and someone who, throughout the proceedings and up through the hearing, did not show any real remorse for her actions. She cried as she read her statement, and but her tears dried up after she was sentenced as she looked toward her loved ones in courtroom while deputies led her off to prison.
The court made it known that it was not buying her claims of remorse… other members of her family approached us as we sat in the gallery after the hearing and did express some true remorse…
This is not a "bike" case so much as a case which reflects one of the many horrible impacts drugs and addiction can have in society.
A wife loses her husband, a 4 yr old and a little baby girl lose their daddy. Parents lose a son – siblings lose a brother. An entire community of family and friends, cyclists and co-workers grieves… All because an addict got behind the wheel of a 2 ton bowling ball…
Let's hope the court's message from this sentence resonates …
Printed from: https://ohiobikelawyer.com/uncategorized/2016/08/what-is-justice/ .
© 2023.
You can leave a response, or trackback from your own site.
---
---