WOSU is the Ohio State University affiliate for National Public Radio.  Ann Fisher hosts "All Sides" – a two hour daily show that touches the hot button issues of the day.
Ann called me last week to be on her BIKE MONTH show.  The show was great.  We talked for an hour, had callers lined up to ask questions and didn't have time to say everything there was to say.
You can download the show from iTunes!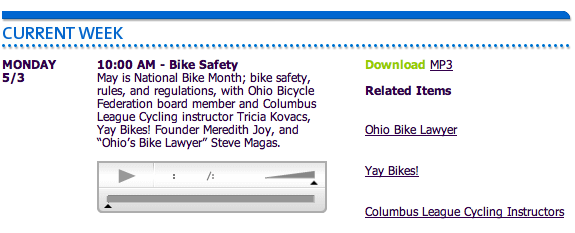 Enjoy!
Steve Magas
The Bike Lawyer
Printed from: https://ohiobikelawyer.com/uncategorized/2010/05/steve-on-the-radio-talking-bike/ .
© 2023.
You can leave a response, or trackback from your own site.
1 Comment »
---
---