Not many details yet, but a cyclist was killed around 7:15pm October 14 in Hamilton, Ohio.  According to one news report:
"…At 7:17 p.m. Friday, a man was crossing the road in front of 2039 South Erie Highway when he was struck by vehicle traveling north on Erie Highway, according to the Hamilton Police… The victim was transported to Ft. Hamilton hospital where he died. The victim's name has not been released and the accident remains under investigation…"
UPDATE  – CYCLIST IDENTIFIED
The cyclist killed in Hamilton, Ohio has been identified as 66 year old Earl Taylor, of Hamilton [NOT "56 years old" as reported in all media reports]. The crash is still under investigation. No charges have been filed. The motorist stopped and helped until police and EMT's arrived.  A website has been set up to help Earl's family with funeral expenses.
No indication yet of exactly what happened. It's been described that Taylor was "crossing in front of" the car at 2039 South Erie Highway when he was struck by a car traveling northbound.  However, Earl has been described to me as a guy who rode a lot, who knew the rules and who rode his bike every day as his means of transportation.  We'll see how the report shakes out…
South Erie is also Route 4 – a busy, five lane roadway. 2039 is the address of Pizza Hut. A Street View shot looking towards the south is attached. THis is looking towards the oncoming car.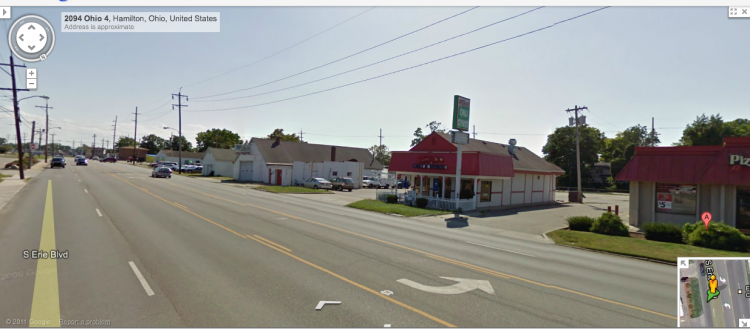 This is the 9th cycling fatality in Ohio in 2011.  These include
2011 OHIO FATAL BIKE CRASHES
1            2/23/11 – Yost Miller – Single vehicle crash into snowbank
2            3/11/11 – David Butterfield – Dayton – Triathlete hit Rt side of dump truck turning Rt
3            4/21/11 – Lisa Hellman – 14 yr old – rode into pickup coming out of driveway
4            5/23/11 – Judge "Chip" Henry – 53 – Geauga – rearended/passing
5            6/10/11 – Kristina Godinez – Columbus hit by passing car, then 2 more
6            6/10/11 – Tajan Burt – Canton –  14 – cyclist lost control & hit SUV
7            6/13/11 – Richard Monk – 51 – Ansonia, OH – Truck veered off road & Hit cyclist
8            6/22/11 – Michael Babcock – Marietta – night – on cell phone – ran red light – no lights
9            10/14/11 – Earl Taylor, 66 – Hamilton/Butler County – 715pm, sunset at 7pm –
Our thoughts and prayers are with the cyclist's family and friends… more details as we get them.
Printed from: https://ohiobikelawyer.com/bike-law-101/2011/10/cyclist-killed-in-hamilton-ohio/ .
© 2023.
You can leave a response, or trackback from your own site.
3 Comments »
---
---