The Bike Lawyer's FACEBOOK page has been up and running for some time now.  I post stories about bicycle/car crashes, legal tidbits, humorous items and more on a regular, daily basis.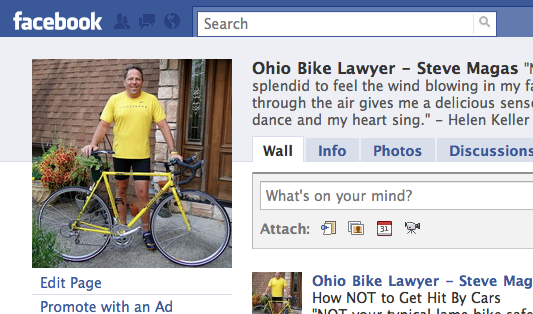 Many of the stories I post come from an excellent site, Cyclists Against Reckless Drivers, or CARD, which is run by a fellow out of Arizona, Steve Donaldson.  Steve does an outstanding job of publicizing stories from all over the country of crashes involving cyclists – mostly crashes caused by careless, drunk or stupid motorists.
Enjoy!
Steve Magas
Printed from: https://ohiobikelawyer.com/bike-law-101/2010/09/check-out-the-facebook-page/ .
© 2023.
You can leave a response, or trackback from your own site.
---
---